INVITATION TOTHE AUCTION PREVIEW
NOVEMBER 14th at 15.00 - 20.00
RUSSIAN & FINE ART EXHIBITION
Gallery Maison d'Art -
27 Av. de la Costa - 98000 MONACO
&
17 NOVEMBER AUCTIONS
Le Meridien Beach Plaza, Monte Carlo

NUMISMATICS at 12.00
FINE ART at 15.30
OBJECTS OF VERTU at 17.30
ROSSICA at 18.30
21 NOVEMBER AUCTIONS
Le Meridien Beach Plaza, Monte Carlo

RUSSIAN ART at 11.00
ANTIQUARIUM ROADSHOW at 17.30
14th of November Hermitage Fine Art invites you to the Fine Art auction preview of the most important art works in the upcoming sales (17 and 21 November) at the Gallery "Maison d'Art" in Monaco from 3pm to 8pm.
The auction house will exhibit outstanding masterpieces by great Russian and European painters including Camille Pissarro, Eugene Boudin, Ivan Aivazovsky, Konstantin Makovsky.

November 17th and 21st Hermitage Fine Art will auction collections of numismatics, objects of vertu, Russian and international fine art in the Meridian Beach Plaza hotel, Monte Carlo.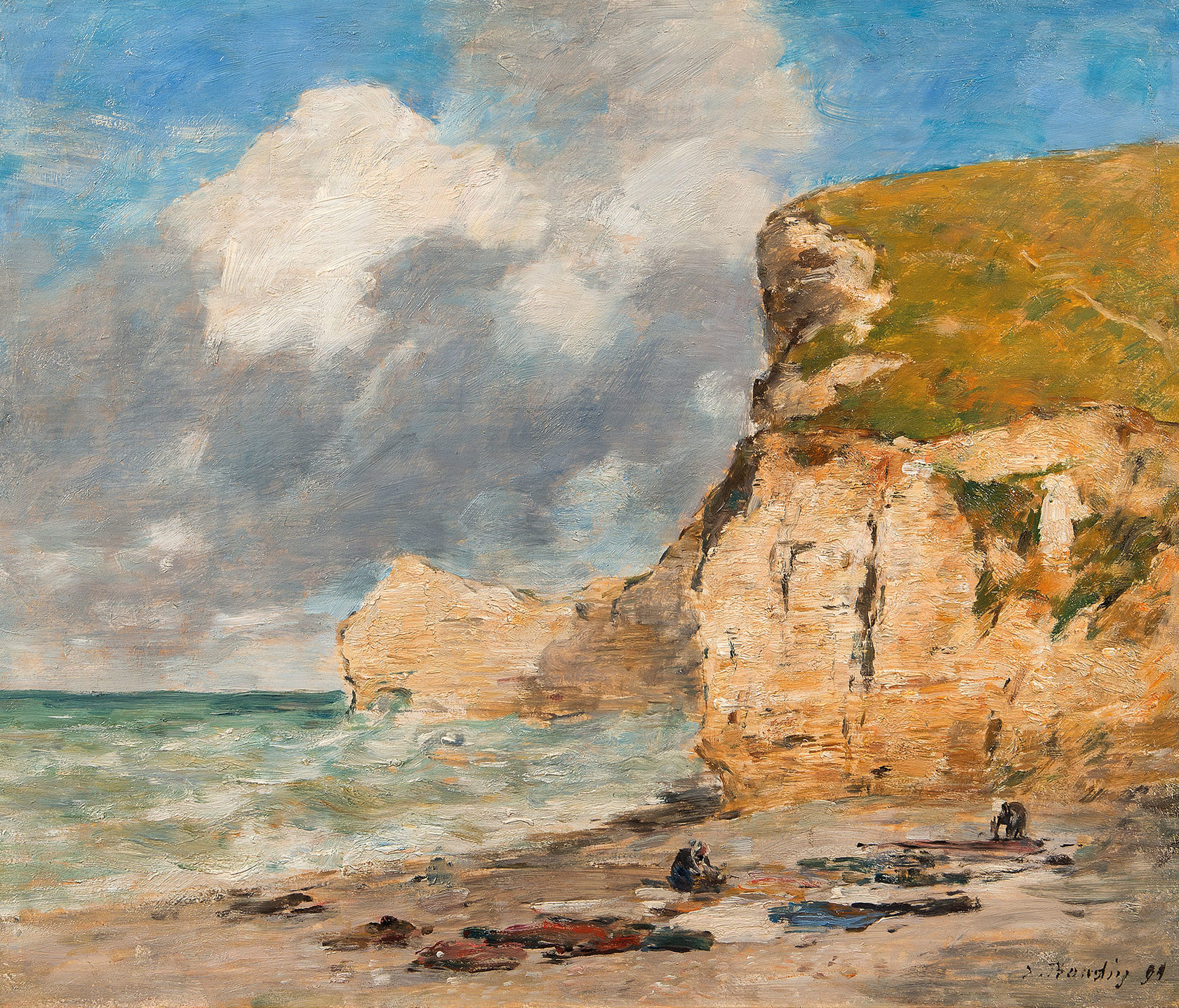 Lot 250 •

EUGÈNE BOUDIN (1824 – 1898)

Etretat, La Falaise d'Amont, 1891

Signed and dated 'E. Boudin 91' (lower right)Oil on panel
37.3 x 46.2 cm
Painted in 1891

Lot 705 •

IVAN KONSTANTINOVICH AIVAZOVSKY
(1817-1900)

Figures by a moonlight shore

Signed in Cyrillic and dated 1858 (lower right)
Oil on canvas
41 x 33 cm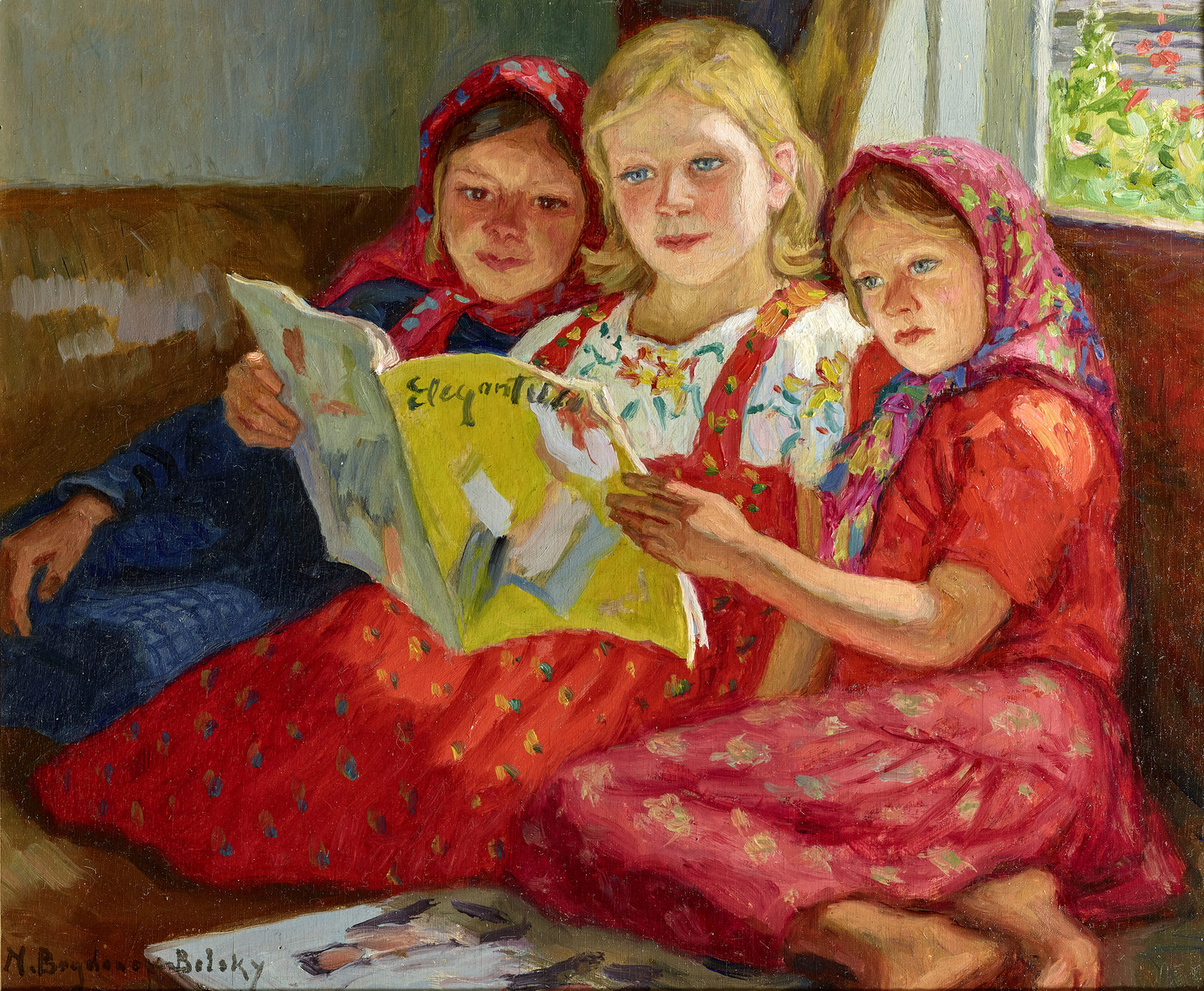 Lot 703 •

NIKOLAI PETROVICH BOGDANOV-BELSKY
(1868–1945)

Reading Girls

Signed 'N. Bogdanov-Belsky' (lower left)
Oil on panel
22 x 26 cm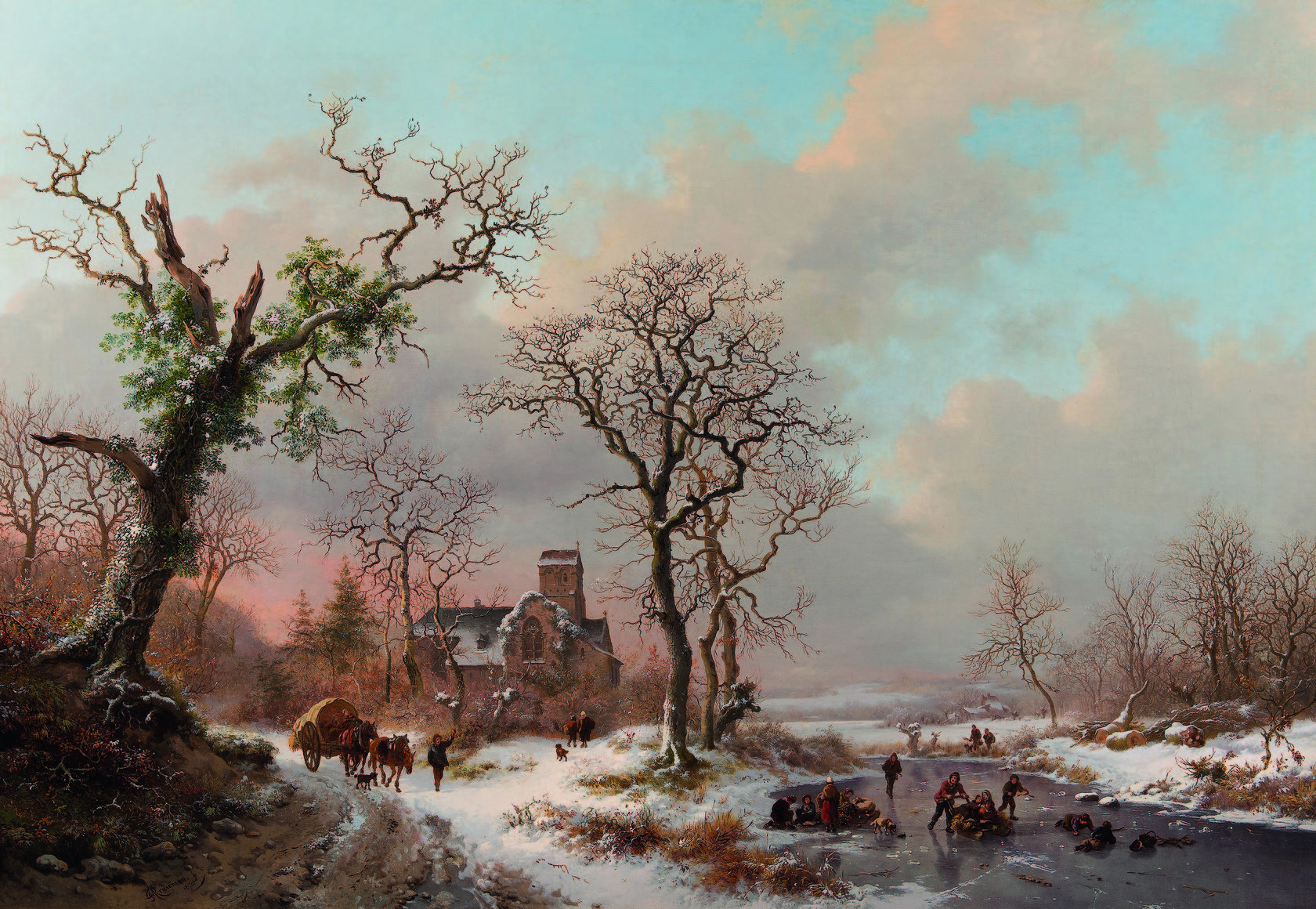 Lot 258 •

FREDERIK MARINUS KRUSEMAN
(DUTCH, 1816-1882)

Winter Landscape with Skaters and a Covered Wagon Near a Church, 1870

Signed lower left
Oil on canvas
70.6 x 101 cm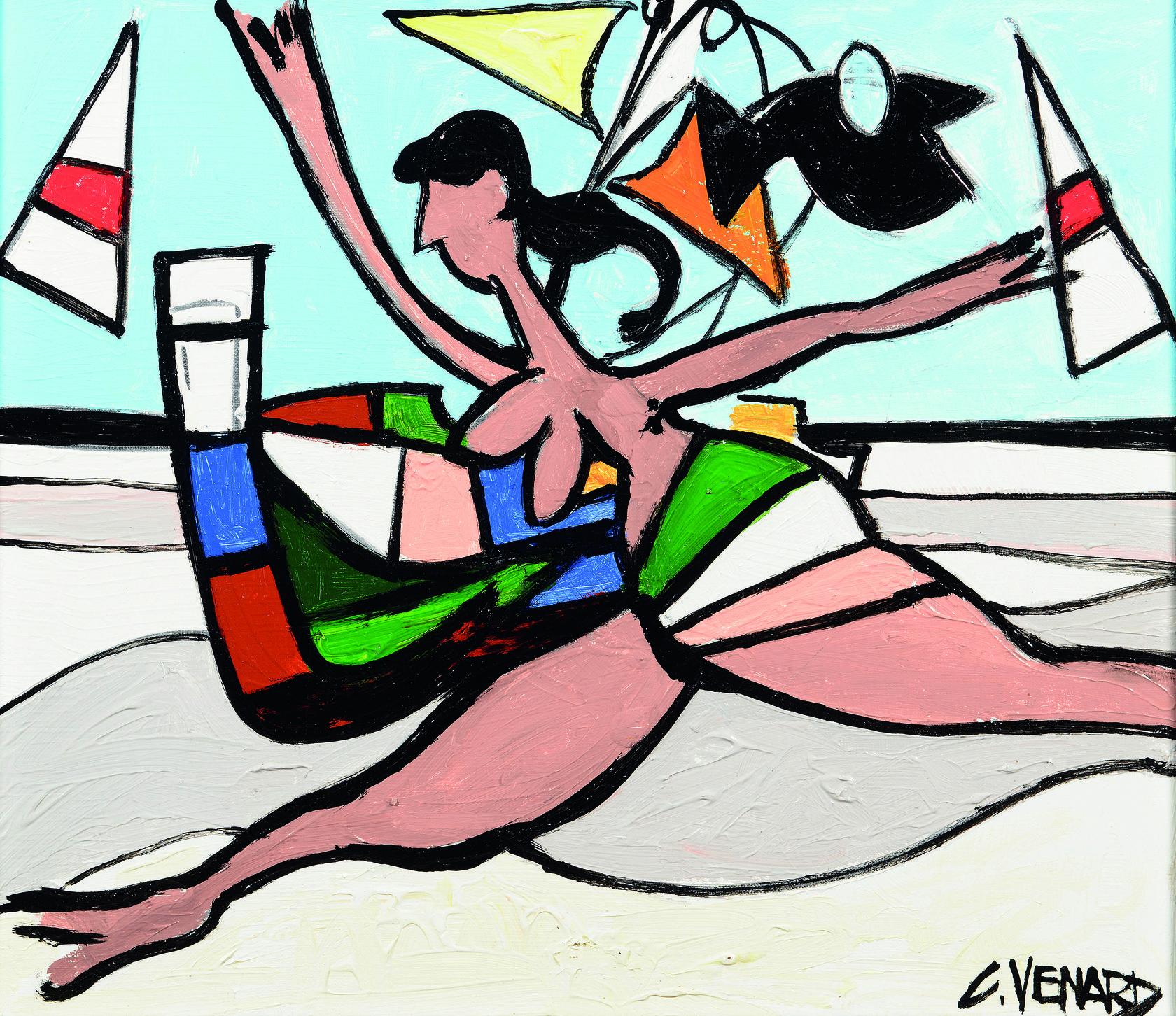 Lot 317 •

CLAUDE VENARD
(FRENCH 1913-1999)

Running on the Beach

Signed lower right
Oil on canvas
46 x 55 cm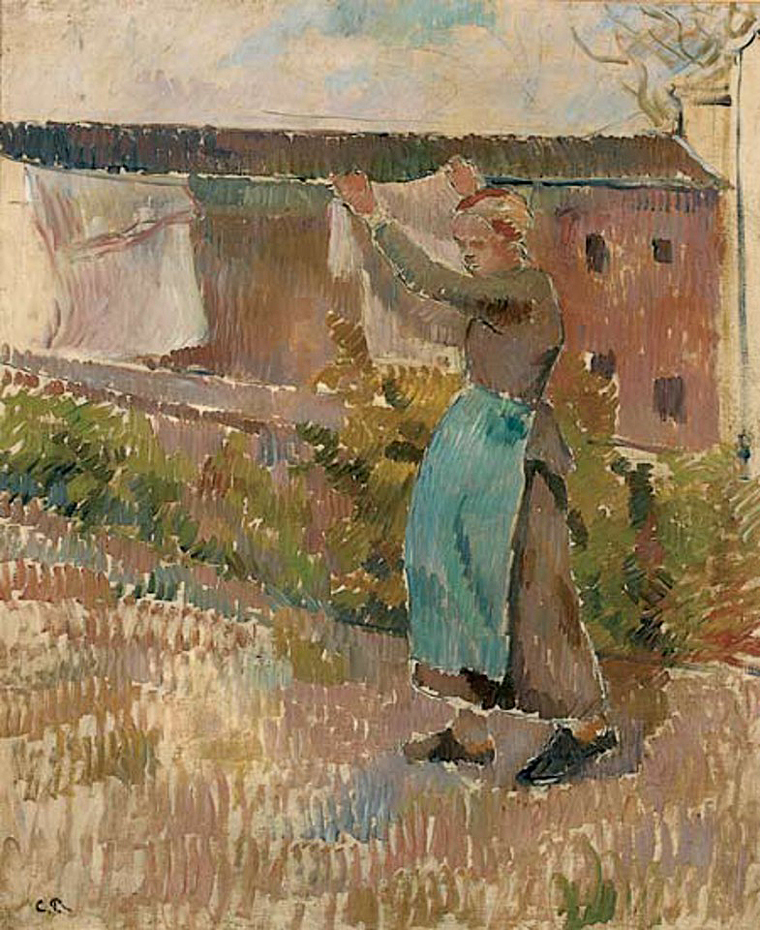 Lot 251 •

CAMILLE PISSARRO
(1830-1903)

Woman Hanging Laundry (study)

Monogram 'CP' (lower left)
Oil on canvas mounted on panel73 x 60 cm
Painted circa 1887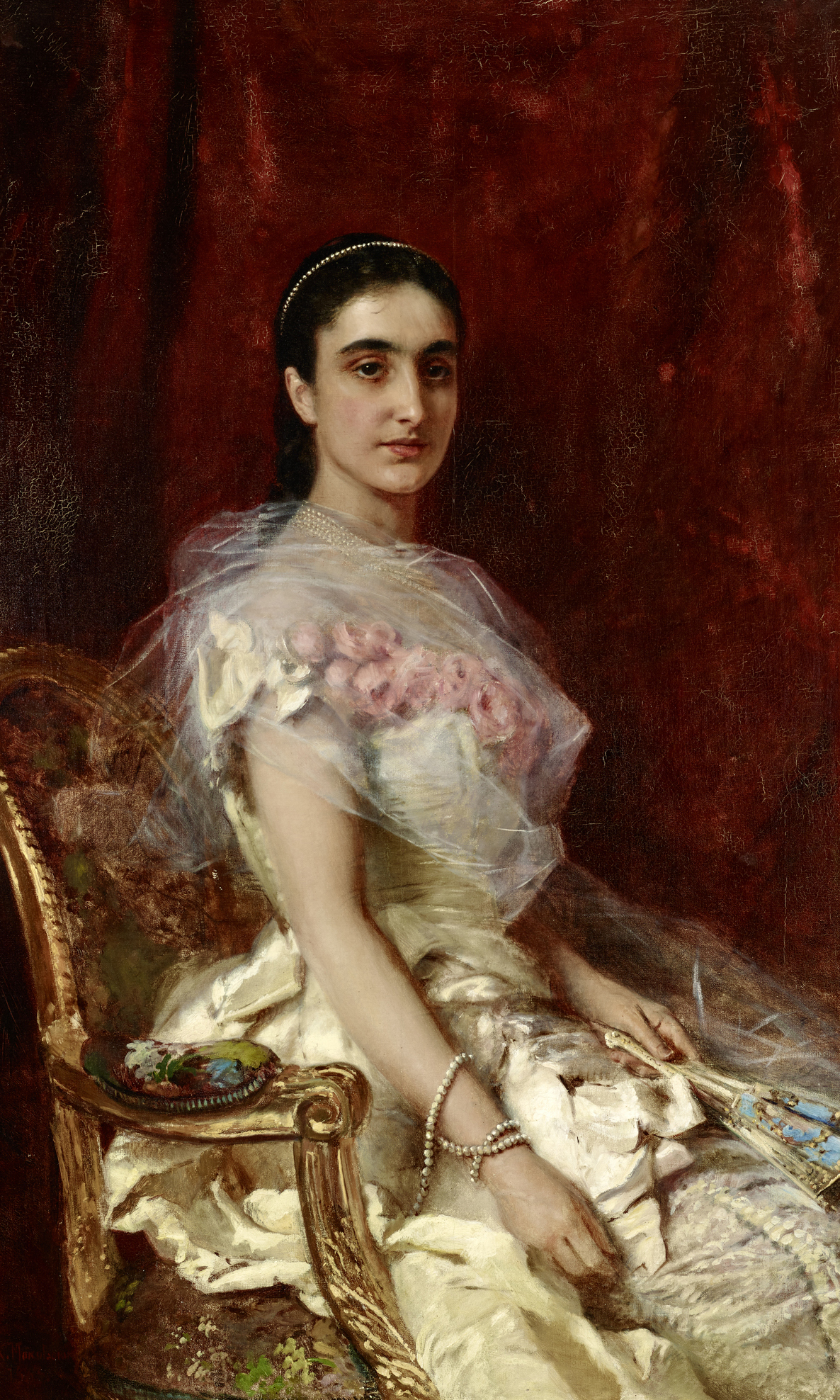 Lot 704 •

KONSTANTIN YEGOROVICH MAKOVSKY
(1839-1915)

Portrait of an elegant lady with a fan

signed and dated '1883'
Oil on canvas
121.5 x 74 cm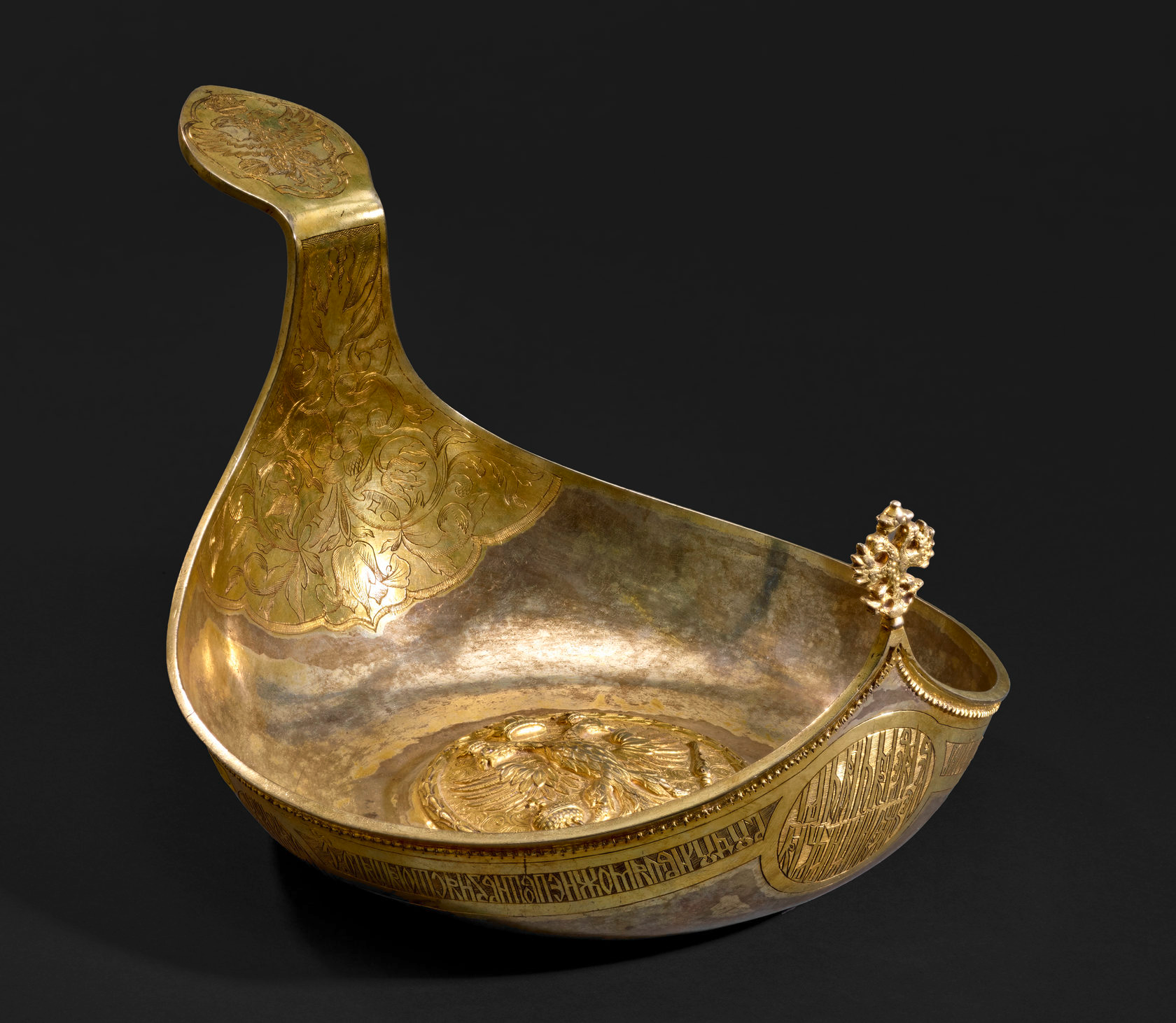 Lot 812 •

A large presentation silver kovsh
(Peter I)

Moscow, circa 1696.
Silver, carving, gilding.

NUMISMATICS AUCTION - November 17, beginning at 12.00
Catalogue PDF
A large numismatic auction will start on November 17 at 12.00 Monaco time featuring coins of Ancient Greece, the Roman Empire, the Byzantine Empire, the Middle Ages and modernity.
Among the top lots there will be lifetime coins of Caesar, Cleopatra and Marcus Antonius, Julia Domna, Caracalla and Geta, Commodus, Elagabalus, Septimius Severus – these are perhaps the only reliable portraits of these great historical figures.
Items of great value are the coins of China of the XVII century, the coin of the Russian Empire with the image of Peter the Great, the medals of the Russian Empire of the 19th century with portraits of Alexander II and Alexander III, as well as a rich variety of gold European coins of the XI-XIX centuries
INTERNATIONAL FINE ART AUCTION - November 17, beginning at 15.30
Catalogue PDF
On November 17 Hermitage Fine Art will hold an auction of international fine art of the XIX-XX century. It will be held at the hotel Le Meridian, beginning at 15.30.
Among the famous names there are Camille Pissarro, Eugène Boudin, Claude Venadre, Frederik Marinus Kruseman, Erte, Elie Anatole Pavil, and Felix Varla.
Top lots of the auction will be:
Preparatory artwork by Camille Pissarro for his well-known painting "Woman hanging laundry", exhibited in the museum D'Orsay in Paris, as well as 'La Falaise d'Amont' by Eugene Boudin, of the Norman landscape and a snow-white cliff well known among the impressionists.
In addition to these well-known works, there will be the winter Dutch landscape with skaters by Frederick Marinus Kruseman, aerial images in sketches by Erte, young ballerinas by Arnaldo Ferraguti, Paris streets by Lucien Adrion and New York in winter by Johann Bertelsen.
OBJECTS OF VERTU AUCTION - November 17, beginning at 17.30
Catalogue PDF
On November 17 Hermitage Fine Art will auction luxury goods by famous brands.
An original Louis Vuitton Trunk from 1910, a Cartier table clock from the late 1930s, as well as vases made of Venetian Murano glass are among the top lots of the upcoming auction.
ROSSICA AUCTION - November 17, beginning at 18.30
Catalogue PDF
Big collection of the rare books and manuscripts will be auction on November 17th.
The exhibition of the lots will be open for the collectors on November 17th in Paris, at Le Salle,
20 rue Drouot, 75009 Paris
.
RUSSIAN ART AUCTION - November 21, beginning at 11.00
Catalogue PDF
Russian Fine Art
The auction catalogue of Russian art contains more than 500 art items and includes paintings and graphic works, engravings and placards, ancient books, items of decorative and craft art, silver and porcelain.
The auction will take place on November 21, beginning at 11.00 in the Meridian hotel, Monte Carlo.
Sea moonscape by Ivan Aivazovsky, a portrait of an elegant lady by Konstantin Makovsky, 'Gardens of Beijing' by Camille Benoit (making its first appearance at auction), 'Firebird' by Nikolas Kalmakoff, and 'Sisters of mercy' by Mikhail Klodt are the main lots of the opening section of the Russian art auction, painting.
Paintings by Nikolai Bogdanov-Belsky, Konstantin Gorbatov, Andrei Egorov, David Burliuk, Juliy Clever, Grigory Kapustin, Ivan Schultze, Dmitry Stelletsky, and ballet sketches by Lev Bakst and Mstislav Dobuzhinsky are also worthy of note, between the presented lots.
Decorative art
The most important auction lot will be a
large presentation silver kovsh
(Moscow, circa 1696) (Peter the Great) with the gift inscription in Russian Church Slavonic language : 'By God's mercy, the Great Sovereign, Tsar, Grand Duke Peter Alekseevich, Autocrat of All Russia, granted this ladle to the sotnik Kozma Kamenev while being in the customs in 1695, who took 104 rubles, 3 altyns, 2 dengas.'
A rich collection of silver will also be exhibited at the auction. This collection contains such significant lots as a samovar from 1827 (lot 813), wedding silver glasses from the 19th century (lot 814), a Faberge blotter 1908-1917 with a silver plate (lot 816), a silver mug with the image of the Emperor of the Russian Empire Nicholas II (lot 817), and 4 silver plates by Faberge from the private collection of Elizabeth Obolenskaya Demidova of the famous Ural Industrialists Demidov dynasty (lot 824).
Rare books
Amongst the top lots of the rare books collection are:
- Pallas P. S. edition, 'Flora of Russia' from the heritage of S. M. Lifar, which describes in detail the plants of the Russian state with their images.
- 'History of the reign of Louis XIII, king of France and Navarre' by Michel Levasseur (1648?-1718) in 18-volume edition from the library of the Pavlovsk Palace.
- Rare early edition of the 'CHAMBERS OF THE ST. PETERSBURG IMPERIAL ACADEMY OF SCIENCES LIBRARY AND KUNSTKAMERA'.
- Notes on the reign of Peter the Great, Emperor of Russia, Father of the Fatherland, author JEAN EN ROUSSET DE MISSY (1686-1762). From the LIBRARY of the privy councillor, senator, director of the Hermitage COUNT BUTURLIN (1763-1829).
- Colorful edition of Benois 'Tsarskoye Selo in the reign of Empress Elizabeth' with heliogravures by Dobuzhinsky, Lanceret, Mitrokhin, Somov. The eight-year work of Alexander Benoit, timed to the bicentennial of Tsarskoye Selo, a bibliographic rarity once being published.
Autographs
Amongst the highlights:
- D. I. Mendeleev handwritten letter addressed to the Director of the Public library Afanasii Fedorovich Bychkov (1818-1899) with a request to hire a son of his familiar person. - Autographs and handwritten letters of General Wrangel, Valery Bryusov, Anna Akhmatova, Maxim Gorky, Konstantin Balmont, Alexander Kuprin, Felix Yusupov.
Photographs
The works of the 'Kremlin photographer', the most important photographer of the first half of the twentieth century, Moses Nappelbaum, will certainly be in the spotlight for true collectors of photography.
To honour the 150th anniversary of the birth of the 'Master of the photo portrait' Hermitage Fine Art will present for auction photos of the composer Sergei Prokofiev, Dmitry Shostakovich and the most famous photo of Vladimir Ilyich Lenin. It was Nappelbaum who in 1918 created the very first portrait of Lenin in history. It became the favorite photograph of the leader. The portrait was printed in millions of copies and distributed throughout the Soviet Union. Moses Nappelbaum invented his own creative manner of making a studio portrait, creating light spots on the film negatives to add a special effect to his composition.
ANTIQUARIUM ROADSHOW - November 21, beginning at 17.30
Catalogue PDF
Hermitage Fine Art presents its first special edition sale "Antiquarium Roadshow" featuring both international paintings, and Russian Art and historical lots from private connections.
Among the top-lots of artworks here are paintings by
Bogdanov-Belsky, René SAUTIN, Konstantin Gorbatov, decorative art from
the
Gardner factory
, and
autographed letters of Price Yusupov
.